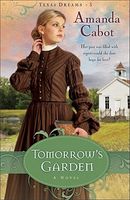 The third and final book in Amanda Cabot's Texas Dreams trilogy is here! "Tomorrow's Garden" is the much-anticipated conclusion to Cabot's triology.
The main characters from the previous two novels in this series return and you will continue to love them and love seeing how their families are growing and how life is continuing on in Ladreville, Texas.
Harriet Kirk decides to take the teaching vacancy in Ladreville in hopes of offering a better future for her 5 siblings. Harriet meets the new mayor of this town, Lawrence, a former Texas Ranger (who was also in the 2nd book of this series!) and sparks of all kinds fly between these two as neither understands completely where the other is coming from. Harriet is immediately befriended and she must come out of her shell and forget about some principles that she had been taught in order to really be a friend to those she comes to love around her. Harriet quickly realizes that the past is not all staying in the past as a man seeking her hand in marriage arrives in Ladreville and causes trouble, Harriet's brother continues to get into trouble and Harriet has a man courting her much to her own chagrin as well as her siblings. Harriet also cannot seem to get Lawrence off her mind and looks forward to their visits together, however she is determined that she is not the marrying kind.
Join Sarah, Clay, Zach, Priscilla, Gunther, Isabelle, Lawrence, the Friedrich family and now the new characters - the Kirk family is this wonderful conclusion! I was drawn into the story as soon as I started and wanted to keep reading until I had finished, but at the same time I was sad when the book ended as it was the final page set in Ladreville. I love the characters who live in Ladreville and I have enjoyed reading their stories and seeing how their story continues in each book. This is a wonderful book and wonderful series that should not be missed if you enjoy historical romance!